Reassembling the M1 Garand's sights, particularly the Rear Sight, can be a little tricky. This set of pages will convey to you how to performing this task.
Most of the things that need doing can be accomplished with a single GI M1 Combo Tool. The sights however are a bit different. When working with them I also use a small flat-bladed screwdriver and a 3/16 Allen Wrench.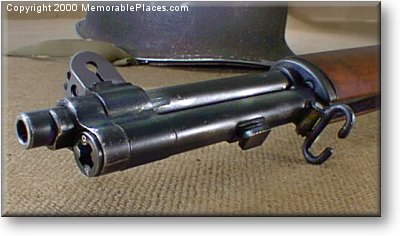 While reading this section you may want to refer to the Nomenclature Pages if any of the part names don't ring a bell.
We will start by showing how to reassemble the Front Sight and then on subsequent pages how to reassemble the Rear Sight. As always wear safety glasses when working on the rifle.
The first step of re-assembly is to lay out all of the parts that you will need. In the case of the Front Sight this includes the following four parts; the Gas Cylinder, The Front Sight Screw, and the Front Sight. Also round up a 3/16 inch Allen Wrench.
When all of the parts and tools are laid out begin to reassemble the front sight.