Part name: Trigger & Sear
Part Function: The Trigger is a small metal lever that sets off the mechanical workings of a firearm resulting in the discharge of the cartridge (ammunition).
The Sear is responsible for 'catching' the Hammer when it is thrust rearward when cocking and releasing it when the trigger is pulled.
Special Notes: I do not disassemble this assembly any further. The Trigger is the dark metal part in the foreground of this photograph. For Clarity the Sear was tinted to a golden color using a computer graphics program. It is attached to the trigger.
Other items of interest in this photograph: W.W.II Nazi Eagle & Swastika Tunic Patch. United States Servicemen carrying the M1 Rifle were responsible for making sure that none of these patches would ever be worn by members of the rulers of the United States or Europe. More than a few men who wore these patches died when triggers like this one were pulled by men who truly did 'save the world'.
Have you thanked a veteran for your freedom? What have you done to protect it?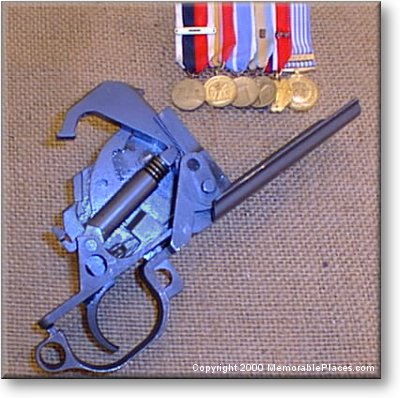 Trigger and Sear assembled in the Trigger Group
This page was last updated on: March 14, 2002