Part name: Stock Group
Part Function: The Stock Group is the wood that the M1 is assembled with. The buttstock aids in aiming and the forestock portions protect the shooter. Note also the ferrule, sling swivels, and buttplate are part of this group.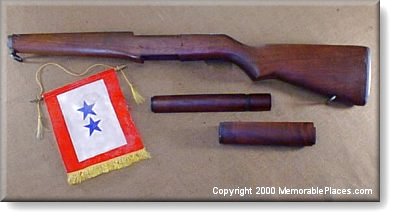 Special Notes: none.
Other items of interest in this photograph: Sons In Service Flag. During World War II silk flags like the one pictured here were hung in the windows of homes where a son was in the armed services. Each blue star represented a child in the armed service fighting for his country. This particular flag was flown in the window of a family who had 2 boys in the service.
If a son was killed in the war a gold star would be substituted for the blue one. In the movie Saving Private Ryan, you can see a 4-star 'son-in-service flag' in the window of the home of Mrs. Ryan. Watch for the scene where the pastor and the Army official drive up to deliver the news that three of her sons have been killed.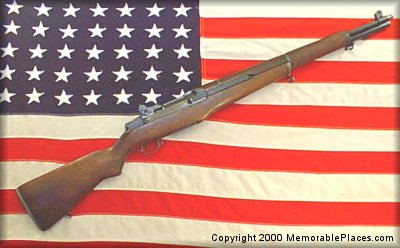 Part shown in final assembly.
This page was last updated on: March 14, 2002