About the most useful accessory that you can buy for your M1 is commonly known as the 'combo tool'.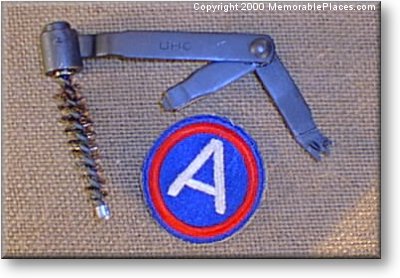 Combo tool made by Union Hoe Company.
The patch below it was worn by the men with Patton on their successful race across Europe and during the Battle of the Bulge.
This wonderful little device officially known as "Tool, combination, screw driver, wire brush, and bolt assembly and disassembly" can be stored in the buttstock of the M1 Garand rifle and it is a veritable toolbox of useful items.
The combo tool can be used to do the following tasks:
removal and replacement of the gas cylinder lock screw
removal and replacement of other screws such as the buttplate screws
seating the rear sight base
extract cartridge case
remove various pins
aid in removing or assembling ejector
aid in removing or assembling extractor
clean the barrel chamber
The most obvious part of the combo-tool is a chamber brush. Frankly we prefer to use a pistol brush on the M1 chamber.
This page was last updated on: March 17, 2002