Many owners of M1 Garand rifles have built little collections of accessories around their guns. One of the first things that most people consider obtaining is a vintage 10 pocket Garand Cartridge belt. Obviously the belts were used to transport 30-06 ammunition.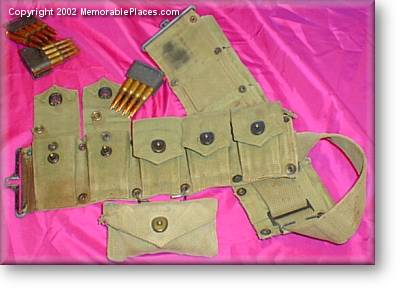 This is an example of a typical W.W.II ten pocket cartridge belt. This particular belt was manufactured early in the war. The early belts like this one were produced with an extra strap coming from within the ammunition pocket. This was because Springfield bolt action rifles were still being issued and the belt was also used to hold the Springfield Rifle 'stripper' clips in place. Later models of the ammo belt eliminated these.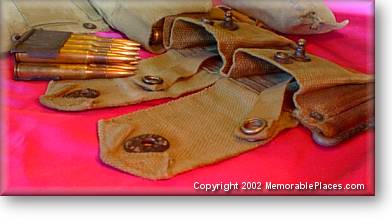 From time to time you will see 10 pocket belts that are ' crinkled ' on the bottom. These crinkles look a bit like elastic. Most of the time those belts of World War One vintage.
Of note there are also 10 pocket belts that have eagle's on their snaps instead of the 'lift-dot' that you see here. Those are getting very rare and again are from W.W.I. Many of these 'eagle-snap' belts sell in excess of 100 dollars!
This page was last updated on: March 14, 2002